Legislation
BS6396:2022 Electrical Systems in Furniture
BS6396 applies to electrical installations in all furniture connected to the supply by a 13A plug. Most commonly this is via an outlet within a floorbox or a perimeter trunking system. Installations connected by other means such as underfloor track tap-offs, industrial connectors or hard wiring should be installed in accordance with BS7671 - Requirements for Electrical installations. To meet the requirements of BS6396 the points listed below must be followed when specifying electrical systems within office or educational furniture.
---
Thermal Resets and Fusing
Using thermal resets as a means of compliance with BS6396 has always been a bit of a grey area, and therefore resulted in some unsafe installations.The updated version of BS6396 recognised the advantages of thermal resets and they are now included as an allowable provision for over-current protection.
On viewing the draft proposal of BS6396/2022 we highlighted some significant issues that we believed were steps back in terms of safety. We are pleased that the published standard met these concerns and now there are clear guidelines for safe installations.
BS6396 now states : "Socket resettable fuses/thermal overloads should be either:"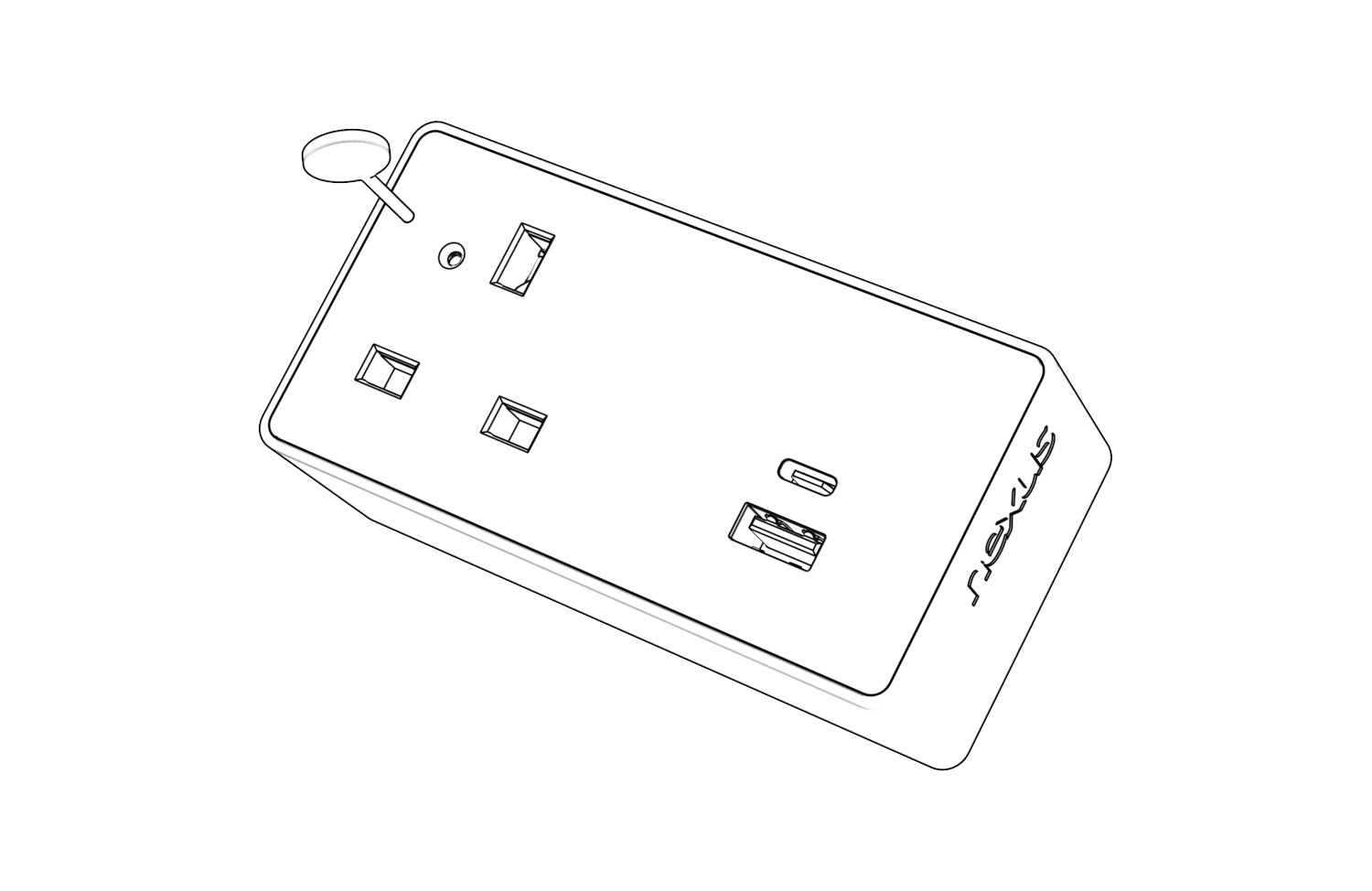 Inaccessible without the use of a tool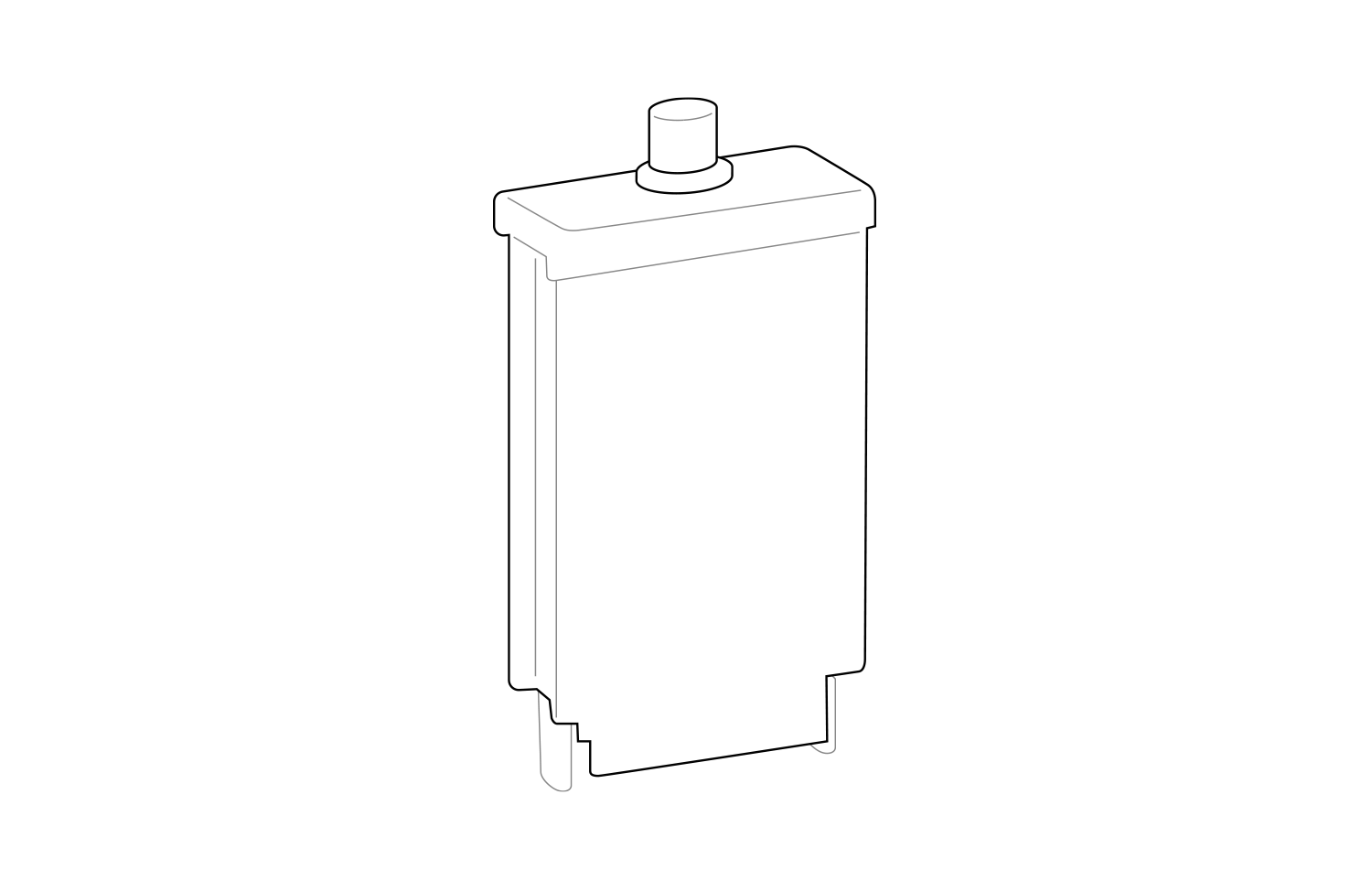 Positively trip free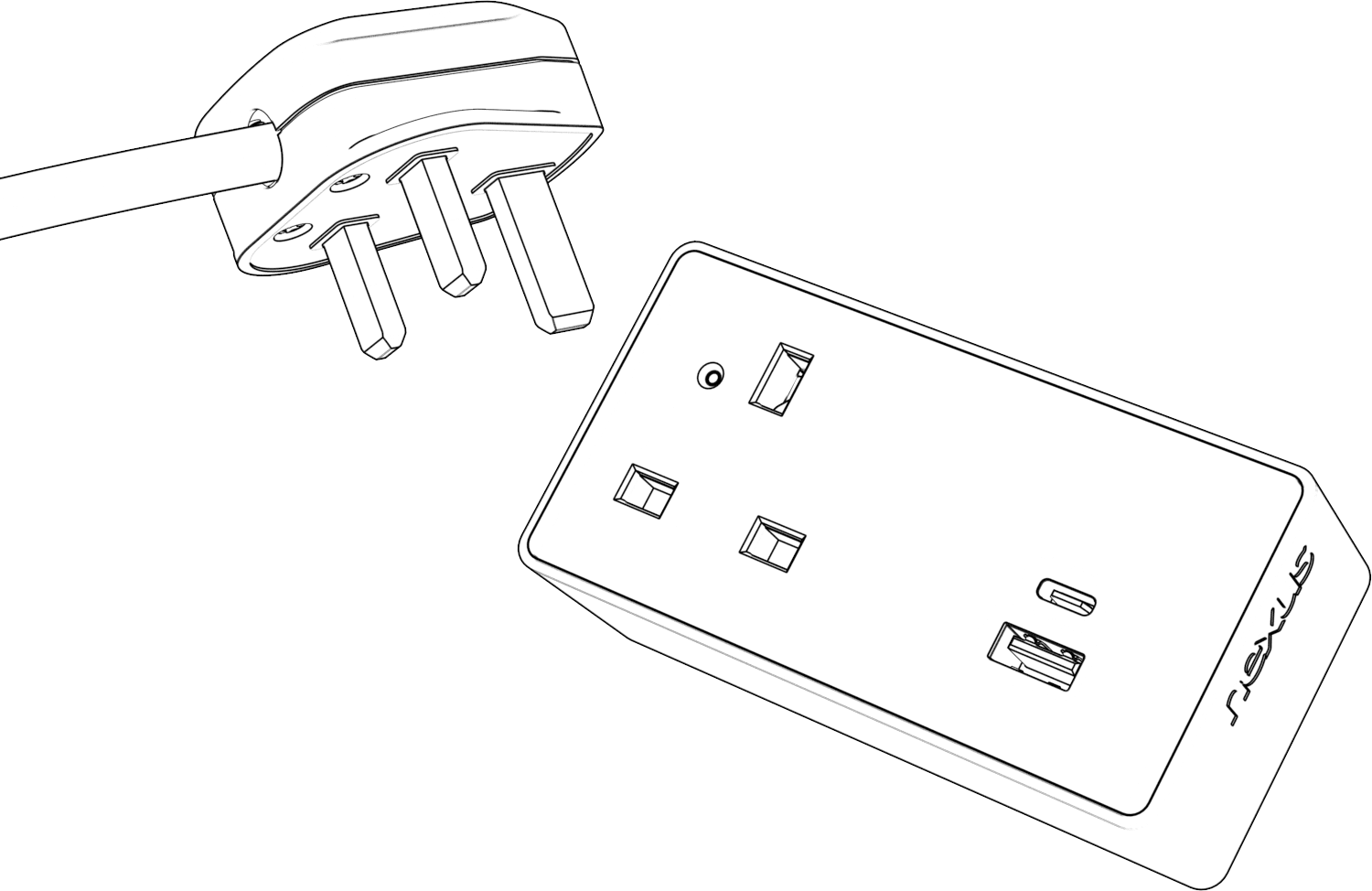 or Inaccessible unless the load is disconnected
Our competitors:
Resettable fuse is covered by power plug, requires load to be disconnected, reset with finger.
Acceptable
Safety Level
Resettable fuse, however reset only accessible with the use of a tool. Load stays connected.
Acceptable
Safety Level
Resettable fuse, accessible without a tool are only acceptable if they are trip free *.
Check with
Supplier
Tool release traditional cartridge fuses can be used in place of thermal overloads. No positional requirement.
Acceptable
Safety Level
* Note - BS6396 is clear in its classification "Positively Trip Free" resets. If in doubt, consult the manufacturer to request a data sheet for the reset being used in their product. Positively Trip Free will be highlighted within the specification.
the nexus range
Resettable fuse is covered by the appliance plug, requires the load to be disconnected and reset with a tool.
Our patented design ensures the defective equipment is disconnected and only a competent person can reset the device.
HIGHEST
Safety Level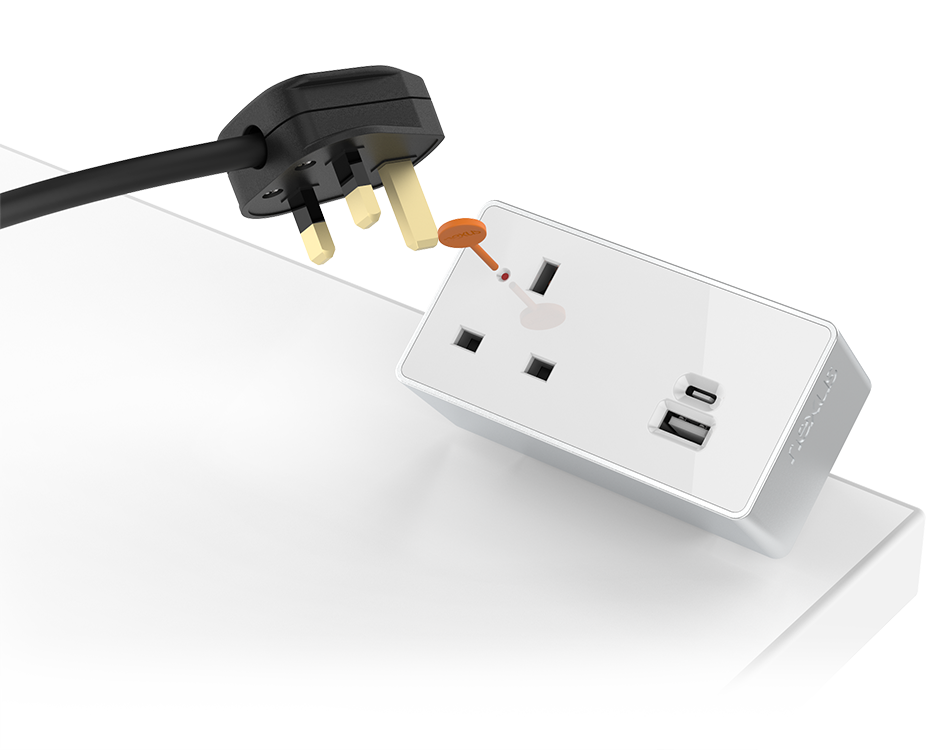 ASTA approved range - safety guaranteed
Products manufactured in wholly owned Group factories
Part of the Luceco plc Group, experts in electrical manufacturing, distribution and support
Fully in-house - material selection, design, production, assembly, packaging, distribution, sales and support
Industry leading warranties - 10 year total confidence, 2 year standard and an Unlimited Value connected equipment warranty for our surge devices
Number of sockets
Any electrical system being fed from one 13 Amp UK plug must not consist of more than;
Six sockets if individually fused at 3.15 Amps each
Four sockets if individually fused at 5 Amps each
These restrictions are to ensure that no equipment rated higher than 5 Amps can be plugged into the electrical system, minimising the risk of overloads or excessive earth leakage currents back to the supply. Even if surge protectors, RCBOs etc. are fitted you still need to individually fuse each socket at 3.15 Amps or 5 Amps.
However, sometimes the provision for higher rated office equipment is necessary. If equipment such as laser printers require a supply greater than 5 Amps they must be connected directly to their own 13A supply socket.
With new types of technology and equipment becoming common placed within the office environment never has the correct specification of electrical systems been so important.
BS1363 refers to a 13amp socket outlet.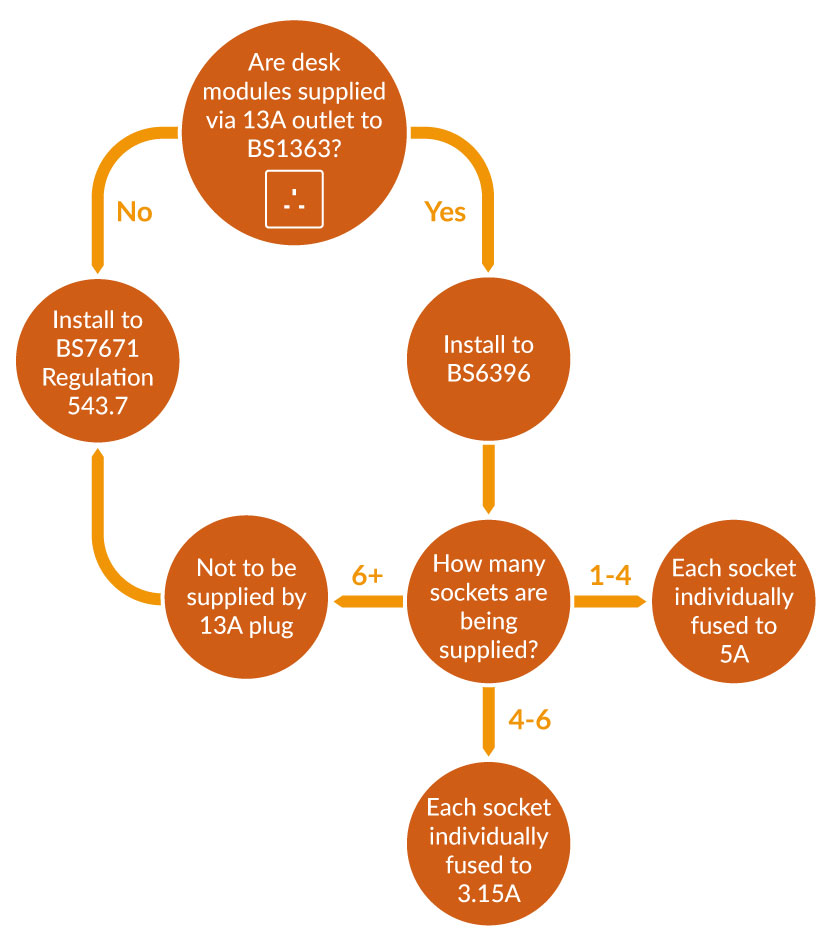 ---
USB sockets
BS6396 also specifies the number of Extra Low Voltage (ELV) outlets allowed. USB sockets are classed as ELV's and count toward the total allowed wattage. In addition to the above permitted maximum number of AC sockets, up-to 150W output of ELV is allowed.
If more than 150W is needed, then removal of an AC socket is required:
For every 3.15A socket removed you can add up-to 500W of ELV power
For every 5A socket removed you can add up-to 700W of ELV power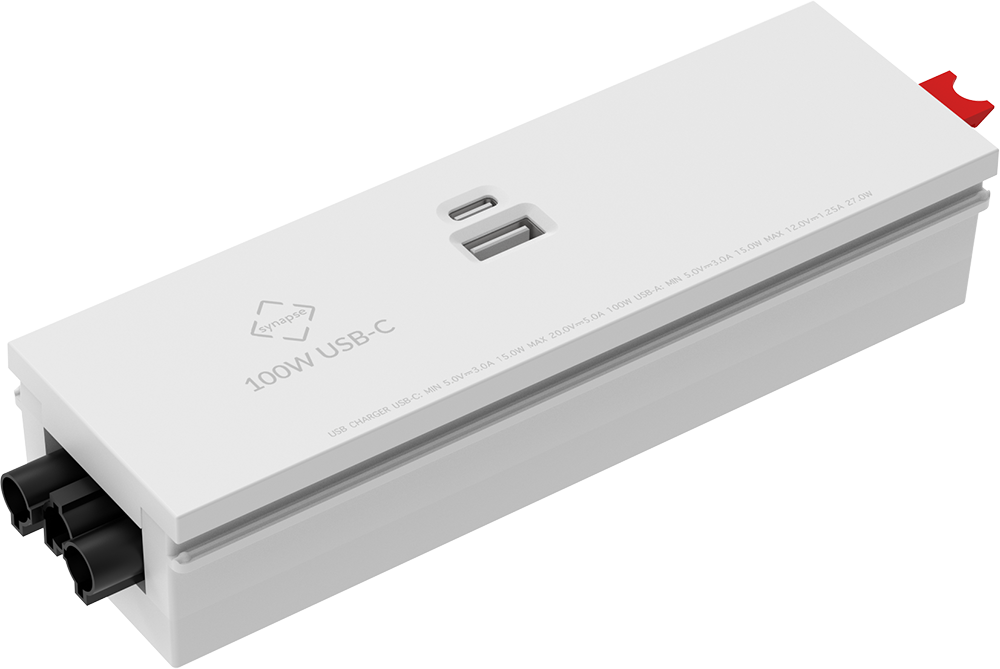 ---
Earthing
Key
Earth
Live
Neutral
Double Insulated Cable
For power sockets mounted directly in the furniture with no external housing - the furniture requires earthing
For power sockets mounted in plastic - the furniture does not require earthing
For power sockets mounted in an earthed metal housing - the furniture does not require earthing